Advanced Carbon Management Planning eBook
Drivers and enablers to advance your Net Zero journey
The UK Government has enshrined new targets in law to slash emissions by 78% by 2035 and Net Zero by 2050. The drive to meet those targets translates into tighter emissions measurement and reporting requirements for business.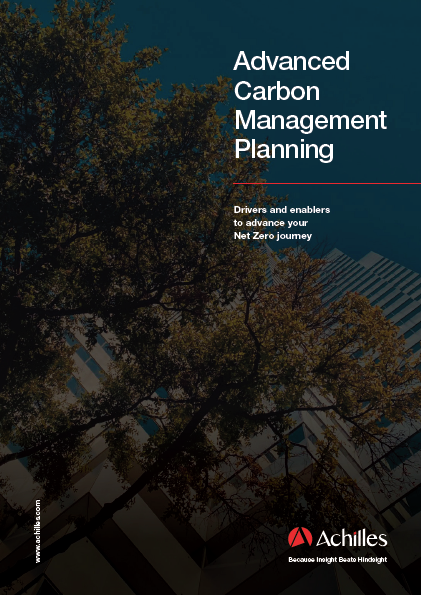 Regulators
As a major source of GHG emissions, businesses are under increasing scrutiny and subject to ever-stricter regulatory requirements to measure and report on its energy use and its plans to decarbonise.
Investors
Investors, employees and wider society expect companies to act as corporate citizens and play their part in finding solutions as focus shifts to the triple bottom line, adding care for people and the planet to profitability as the measures on which a business is judged.
Net Zero
Companies must turn the same ingenuity they use to deliver compelling products and services to applying carbon management to their own operations and those of the supply chains they rely on to ensure they continue to thrive in a zero-carbon world.
Advanced Carbon Management Planning
Drivers and enablers to advance your Net Zero journey
Advanced carbon management is a journey, following a roadmap that will take your business from operational quick wins through to reengineering of fundamental business processes.
Measure your emissions
Manage and reduce emissions
Verify your reductions
Mitigate through offsets
Market your achievements
Having accurate, verified and high-quality
data must be the starting point. Without it,
companies will find it difficult to meet their
SECR and ESOS reporting obligations and unlock other potential business benefits.
Download our eBook to unlock the following:
Understanding SECR & ESOS drivers

Understanding COP26 and SDGs

Building a carbon management roadmap

Achieving carbon zero and beyond
Carbon reduction for people,
planet and profit
We can help you effectively measure and manage your carbon emissions, not only to
comply with SECR and ESOS legislation but to create real business value too.